SIENA & SAN GIMIGNANO AND CHIANTI LIMOUSINE SERVICE
I will be very pleased to take you what is considered one of the most stimulating and significant tours of our region. You will begin in Siena, where we have a special limited traffic zone access permit to enter in this beautiful city and where you will be able to admire the most important sites: the Cathedral considered by many an unrivaled architectural masterpiece and from there you may take a stroll to the "Piazza del Campo", famous all over the world for its beauty and the "Palio". The "Palio" of Siena is a competition of medieval origin where the 17 city districts challenge each other in an exciting and passionate horse race.
The tour will continue onto San Gimignano nominated a World Heritage by UNESCO. Here you will be spellbound by the magnificent and numerous towers within the city, once a symbol of prosperity and wealth. A visit to the Cathedral of San Gimignano with its almost totally frescoed inner walls is suggested. I highly recommend that you taste a cool glass of the delicious local white wine called "Vernaccia" and do a gelato testing at Dondoli Gelateria For those who wish we will end the day, at a farm immersed among the gentle Chiant hills for a wine tasting including a taste of the Tuscan extra virgin olive oil and aged balsamic vinegar accompanied by typical local products such as prosciutto, finocchiona, pecorina (sheep's milk cheese) and bruschetta.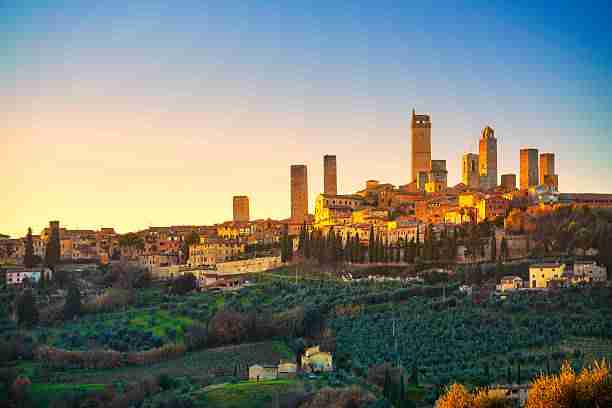 An experience which you will always remember!
Located in the central Piazza della Cisterna in San Gimignano, the Gelateria Dondoli is known all over the world and frequented by numerous public figures.
It is cited among the most important world guides and is continuously visited by national and international televisions. Thanks to his experience and the desire to experiment, the Master Ice Cream Maker Sergio has created original and unusual flavors. His first creations have now become famous: the Crema di Santa Fina® (cream with saffron and pine nuts), the Champelmo® (pink grapefruit and sparkling wine), the Dolceamaro® (cream with aromatic herbs), the Vernaccia sorbet, enrich the its already huge menu.