PRIVATE COOKING CLASS & DINNER
at a local
SIGNORA'S VILLA
Duration approx.4.5 hrs
Experience an exclusive cooking class at a Florentine signora's country home located 8 miles from the Old City on the hills surrounding Florence.
The house was built as a lookout tower in the 9th century and later turned into a farm. In the 16th century it became the residence of Francesco Granacci, a successful Renaissance painter and one of Michelangelo's close friends, and accordingly it was named "Casa del Pittore", meaning Painter's house. It is now a beautiful renovated stone house on a hilltop overlooking Florence.
During the 3 hours hands-on on cooking class – from 5 to 8pm – you will learn how to prepare a traditional 4 courses Tuscan meal.
The menu is made out of the freshest seasonal ingredients and slightly varies according to the climate and season. It includes a starter, hand-made pasta from scratch, a second dish of meat (beef, veal, pork or chicken), and a dessert.
At the end you will enjoy dinner – from 8 to 9.30pm – tasting the dishes you prepared, in the summer whether allowing, served in the garden with a gorgeous view all around. Each course will be paired with a glass of Tuscan wine.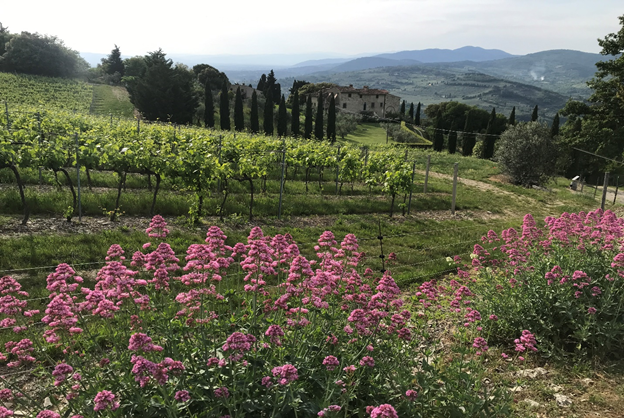 Here below you can see an example of a menù, which will change according to the season
STEP 1: ANTIPASTO – STARTER
1) Panzanella Tuscan bread salad with tomatoes, onion, cucumber, basil and rucola.
2) Deep fried zucchini blossoms.
3) Bruschetta with tomatoes.
4) Pappa al Pomodoro – Tuscan bread, tomatoes,basil and garlic thick soup.
STEP 2 : PRIMO PIATTO – PASTA or RISOTTO
Pasta is hand made from scratch:
1) Ravioli Maremmani filled with spinach and ricotta with grated Parmesan, melted butter and sage on top.
2) Ravioli with lemon and ricotta filling with grated Parmesan and olive oil on top.
3) Fettuccine with Tuscan sausage, tomatoes and local herbs.
4) Potatoes gnocchi with traditional pesto OR almond & sundried tomatoes pesto.
5) Pici Tuscan thick spaghetti cacio & pepe -pecorino cheese & pepper.
6) Risotto with seasonal vegetable: artichokes, asparagus, pumpkin.
STEP 3 : SECONDO PIATTO – ENTREE
1) Chicken breast, thin sliced in one of the following way:
A) Involtini – roll ups with Tuscan ham, medium aged Tuscan pecorino sheep cheese
B) with creamy milk sauce, sage and potatoes
C) with lemon
D) topped with asparagus and Parmesan
2) Veal can replace chicken to make any of the above dishes.
3) Veal scaloppine with (dried) porcini mushrooms
4) Polpette/ Meatballs
STEP 4: DESSERT
1) Classical tiramisu
2) Fresh strawberries tiramisu – no coffee
3) Mascarpone chocolate mousse
4) Panna cotta – cream pudding with berries
5) Hand made – no machine – chocolate chips gelato
6) Biscotti Cantucci with almonds
You have to choose one dish of each step, so in total you will do four/4 dishes.